Over the past few decades we have been fortunate enough to be involved in some truly memorable auctions. From our first Asia auction in Hong Kong to those hosted by the Royal Society of Arts and, of course, our World Record setting exploits in New York back in 2012.
Baldwin's has been responsible for auctioning some of the most prominent collections of coins in recent history. Obvious highlights would include the Prospero Collection of ancient Greek coins, which realised over $20 million, and the Bentley Collection of gold sovereigns.
We asked a few members of our team to highlight their favourite Baldwins sales and lots from our history…
---
Prospero Collection
This was the most significant cabinet of ancient Greek coins to have been offered for sale in nearly a quarter of a century. Reaching an incredible sales total of over $25 million, the collection held the record for the highest price paid for an ancient Greek coin – $3.25 million.
The catalogue for this spectacular auction is now one of the most comprehensive points of reference for all those dedicated to the pursuit of ancient Greek numismatics, an essential addition to the library of any collector, dealer, or anyone with an interest in ancient Greek art and coinage.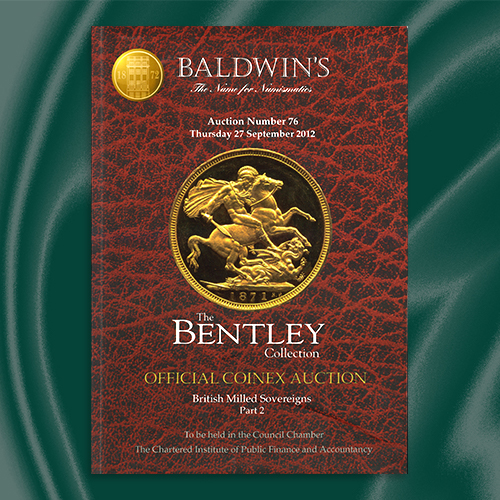 Bentley collection
The most comprehensive and varied collection of milled sovereigns ever formed. A three part sale held between May 2012 and May 2013, consisting of 1238 lots formed over 34 years. Particular attention was paid to condition and rarity with many examples being the finest know including the elusive, key 1819 sovereign in Extremely Fine condition, realising £155,000.
Numerous extremely rare patterns and proofs also featured, including the 1816 Pattern guinea/sovereign showing the transition from the guinea to the milled sovereign..
Hemisphere collection
Formulated as part of a decade plan to acquire a date collection of sovereigns, the Hemisphere collection was a comprehensive and yet refined collection. Commencing with the very first sovereign ever struck of Henry VII, this collection covers both hammered sovereigns and milled sovereigns allowing collectors to see the transition of the gold sovereign over a 500 year period.
Most notably was the renowned 1937 Edward VIII Sovereign realising £420,000 which is still the most expensive milled British sovereign to sell at auction.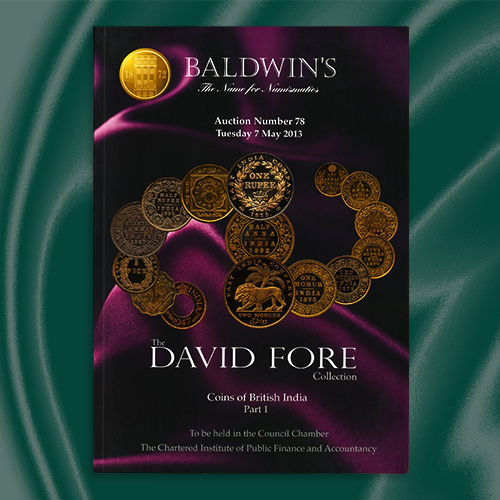 David Fore collection
In 2013 Baldwins started auctioning the best collection of Indian coins since the legendary Pridmore collection. The collection was sold in three parts – 'Proofs, Restrikes and Off-Metal Strikes', 'Patterns and Proofs' and 'Circulating coins'.
In the second section an exquisite 1839 silver pattern Rupee, the first Indian Rupee with a portrait made by an Indian engraver at the Bombay Mint was the first silver British Indian coin to sell for a six figure sum and it made £132,000 against an estimate of £60,000., whilst in the third section auctioned as part of Coinex, one of the star coins was a Tipu Sultan Gold Four Pagodas from Mysore which against a conservative estimate of £4,000-6,000, achieved almost £23,000 including the buyer's premium.
A room full of enthusiastic bidders found fierce competition from buyers on the Internet and on the phone as they fought to take home part of this celebrated collection of Indian coins. All three auctions were well received and in a buoyant market lots achieved some fabulous and record prices.
David Sellwood collection 
The David Sellwood Collection of Parthian Coins was the most extensive and important of its type in private hands and was auctioned in September 2014 as the official auction of Coinex.
David Sellwood was the foremost numismatist on the coinage of Parthia. His collection, spanning the full history of the Parthian Kingdom, represents a lifetime of critical research on the subject.
His comprehensive and important collection featured across a number of Baldwin's sales with his highest quality coins selling in the January New York sale the following year. Sellwood reference numbers are now the constant used by scholars and collectors world-wide.
---
---