[rev_slider alias="william-iii"][/rev_slider]
A HANDSOME COIN OWNED ONLY BY THOSE WHO DESERVED IT
This five-Guinea was the largest of the gold coins of the reign of William III. A handsome coin with a boldly lettered edge, which few could afford to keep and which was produced in relatively small numbers. Few have survived in the condition of this specimen.

William III was a Dutchman, descended from the ancient house of Nassau in Germany, and the great grandson of William the Silent, Prince of Orange, who became Stadtholder (or chief executive) of the Netherlands in 1572. William would go on to marry the daughter of James II, brother of Charles II, King of England, in 1677. In fact, his bride Mary was his cousin. After James II fled and vacated the throne, William and Mary became joint monarchs. This suited William, who did not want to be seen solely as a king regent. The English did not want a vacant throne and Mary was uncomfortable about reigning alone, especially if it looked as if she had usurped her father's throne.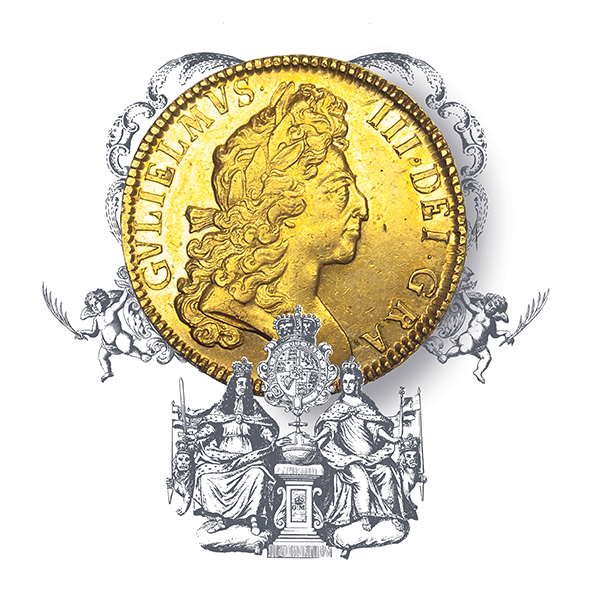 As a consequence, in February 1689, William was offered joint sovereignty with Mary. A win-win situation! Mary died of smallpox in December 1694. William became withdrawn if not reclusive. The English public had tolerated William because of their deep respect for Mary, and after her death, his popularity diminished further. He began to spend more time involved in foreign wars and negotiations. William died as a result of a riding accident. In February 1702 his horse stumbled on a molehill and threw William, fracturing his collar bone. A fever set in, followed by pleurisy and pneumonia, from which he died.
Five guineas were the largest denomination issued from the reigns of Charles II all the way up to George III, replaced ultimately by the gold five-pound piece. Only the wealthiest and most distinguished members of society would ever have handled a five-guinea piece.
The essence of each king and queen is intrinsically captured in the superb detail in the striking of the portraits, on these remarkable and imposing coins. This 1699 William III is no exception, the portrait displays William wonderfully and captures his true image. There is little wonder why the five guinea market has continued to go from strength over the last 20 years. In the early 2000s, a five guinea piece in good condition could be acquired for around £8000, in today's market, the same coin would cost £40,000 plus.
OTHER Examples FROM THis PERIOD…