The Story of Count Zboroswki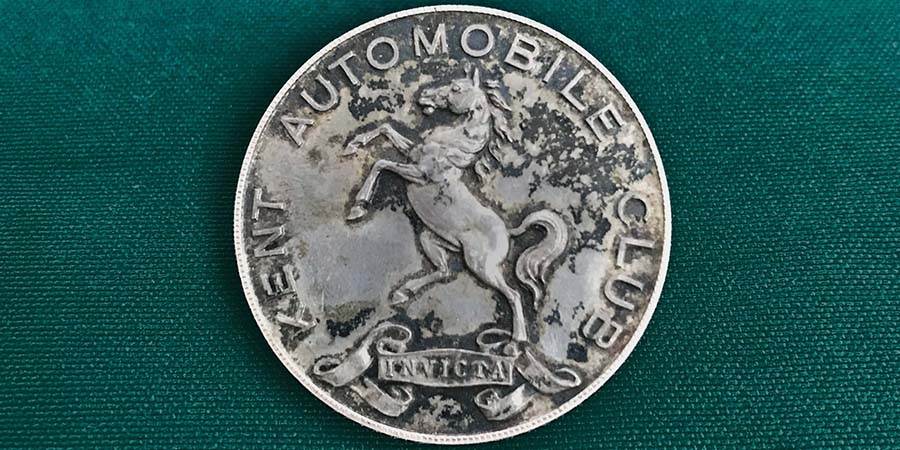 This fascinating medal belonged to a remarkable man who had an interesting life. He inspired many with his magnificent mind and pulled off the unimaginable, but sadly it ended in tragedy when the very same thing that made his career also put an end to it.
A pioneer of motor racing in the early 20th Century, Louis Vorow Zboroswki was the son of a wealthy American aristocrat. A colourful figure, he would go on to design and build his own racing cars, the first of which was named 'Chitty Bang Bang'. Throughout his career, he participated in many motor races across the world, as well as the legendary Indianapolis 500 in 1923.
The MeDAL
The silver medal dates to the following year, 1924, where Zborowski took part in speed trials organised by the Kent Automotive Club where they were held on a sunny Saturday on the Herne Bay seafront. While he didn't win any of the classes – in his Mercedes he gave the favourite, Leon Cushman, a run for his money, finishing second in the unlimited racing-car class.
Count Zborowski had joined the Mercedes racing team that year and it was during the Italian Grand Prix at Monza that tragedy struck. On the 19th October 1924, mere months after this medal was awarded, the count's Mercedes hit a tree on the Curve de Lesmo, killing him instantly.
Count Zborowski's legacy would live on in an unusual way. Unbeknownst to Zborowski, he had inspired the esteemed writer, Ian Fleming, who would watch the driver race at Brooklands during his youth. Fleming's children's book, Chitty Chitty Bang Bang, featured the Count as a key character – the title car being directly based on those he had designed. The 1968 musical adaptation would go on to be an enormous hit, bringing joy to many through film and theatre.
The medal itself is one of excellent quality. Struck in silver, it depicts a prancing horse – likely inspired by the mascots or 'hood ornaments' of the early motorcars. The reverse is a simple wreath, with space for the awardee's name in the centre. It is hallmarked Sterling Silver.