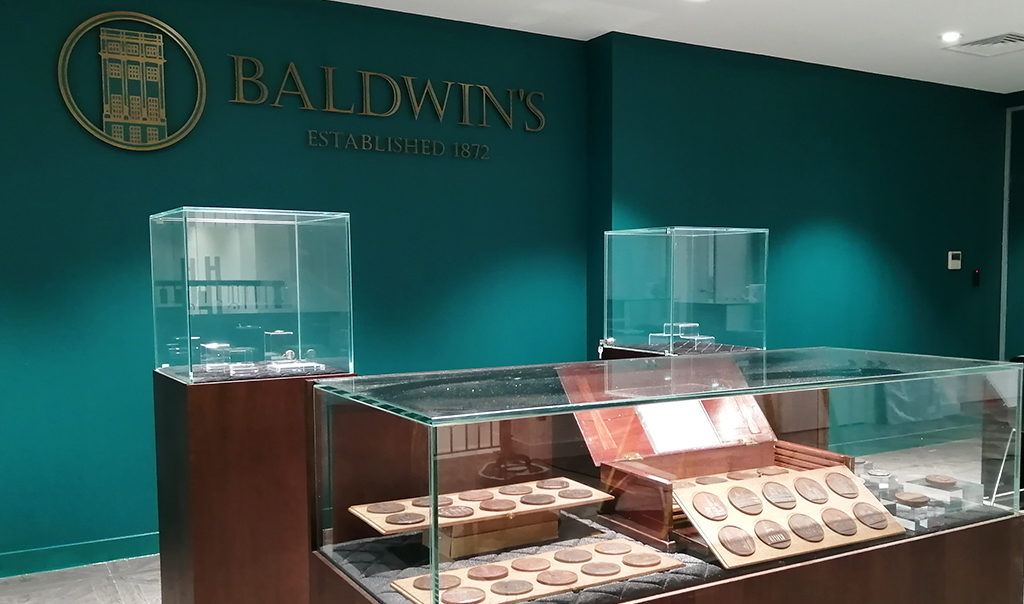 NOW OPENING WITH NEW HOURS
Dear friends
All of the team at Baldwin's continue to wish you and your family good health through these challenging times.
In recent months we have not only been working to continue to provide you with great levels of service and some of the most interesting selection of new coins but also getting our newly refurbished building at 399 Strand ready. We are very pleased to be able to announce that from Monday, June 29th we will be open to the public, featuring the Baldwin's Coin Room, and various displays of some of the world's most interesting coins and related items and artefacts.
We are also changing our opening hours in order to try and make it easier for people to come and visit us.
As of Monday, our new opening hours will be: 9:30 am to 6:00 pm, Monday to Saturday, with the Baldwin's Coin Room open 9:30 am to 6:00 pm, Monday to Friday.
For those of you who aren't able to visit us in person, we are also extending our video call service if you wish to view any of our items remotely or speak to one of our experts. Please don't hesitate to get in touch with us.
We look forward to being able to continue to serve you in pursuit of your hobby and wish you good health.
Graham Shircore & Neil Paisley
rEQUEST A VIDEO CONSULTATION
---
Previous Announcements
We look forward to welcoming you again
Published June 13
Following the Government's most recent announcements, I am very pleased to be able to update you on our plans for reopening our new and much-improved store at 399 Strand, while doing all we can to keep both our customers and staff safe.
From June 15th we will be open for people to visit us by pre-arranged appointment, followed two weeks later on June 29th by the full opening of all three floors of the building. This includes our new Baldwin's coin room and display areas as well as a completely new shop on the ground floor.
We are very excited by this but rest assured, we will be implementing a range of measures to keep everybody safe including the use of floor markers, hand sanitiser, plastic screens and additional cleaning. We will also continue to minimise staff levels on site while doing all we can to offer you the very best level of service.
If you would like to make an appointment to come and see us prior to June 29th, please contact us or get in touch with a Baldwin's representative. The Baldwin's team remain available to speak with you and answer any queries you may have throughout normal opening hours (Monday to Friday, 9 am to 5 pm).
We look forward to being able to welcome you to our new look home and wish everybody continued good health during these unprecedented times.
Graham Shircore
Group Chief Executive Officer
Neil Paisley
Managing Director
We're still open
Published: April 11
Our store may be closed but our teams are working from home as much as possible, as per the government guidelines, in order to help halt the spread of Covid-19.
We are still very much open for business, taking orders, answering queries and despatching goods. We have implemented a new structure which will allow our teams to operate effectively remotely. Our colleagues and customer safety remain our top priority and we thank you for your understanding in this unprecedented situation we find ourselves in.
You can still:
Speak to our experts
If you would like to speak to our experts, please call +44 (0)20 7930 6879.
Send us an email
If you would rather email us, you can do so at coins@baldwin.co.uk and your query will be forwarded to the correct department.
Browse our newest stock
And of course, there is our website which is being updated with new items as they come in– feel free to browse our departments:
Learn about coins
Alternatively, if you are still new to the hobby or would like to introduce someone to numismatics why not visit our new-to-coin guide.
We look forward to assisting you however we can during these difficult times, please stay safe and healthy.
To all of our friends in the coin collecting world
Published March 13, 2020
As a near 150-year-old organisation, Baldwin's has seen many challenging moments throughout its history. Witnessing the developments of Covid-19 has saddened us while at the same time has re-enforced our commitment to the two most important elements of our business, namely our colleagues and our customers.
Over the last few weeks, we have been working continuously to ensure that we do all we can to protect everybody as much as possible while providing you with the best, most comprehensive service possible.
The situation continues to change day by day, if not hour by hour. For the majority of this week, many of our staff have been working from home and this proportion will increase further. We have also operated a policy of staggered attendance on a team-by-team basis.
Throughout this time, all areas of our business have remained open but in order to further protect both our colleagues and customers, as of today we have reluctantly closed our shop in Central London on a temporary basis. The Baldwin's team, however, remain willing and able to assist you by phone or email and distribution of our products, all of which are available online, is currently unaffected. We would love to hear from you if you are interested in buying, selling, or simply discussing the wonderful world of coin collecting.
It is important to us that during this difficult time, we are seen to be doing all we can to help our customers and support our cherished hobby and we will continue to work tirelessly with this aim in mind. We are very aware that many of our clients will likely have to spend much more time at home than normal and we will endeavour to entertain you with more educational articles and blogs, posts on social media, informative and captivating videos and to continue to offer any advice or help that we can.
This situation places a huge burden on all of us but by tackling and sharing that burden collectively, the hobby will emerge with a stronger sense of community and purpose than ever before. From everybody at Baldwin's, we wish you and your family good health during this difficult time.

---