Medals are emotive objects, they represent proud service and they represent, possibly, some of the darkest moments in the life of a man or woman who found themselves at war. Many medals are seen proudly worn on the chest of the owner but many more are to be found at the back of a drawer, left with the memories in the dark.
None more so than those medals posthumously issued during the Great War of 1914-1918.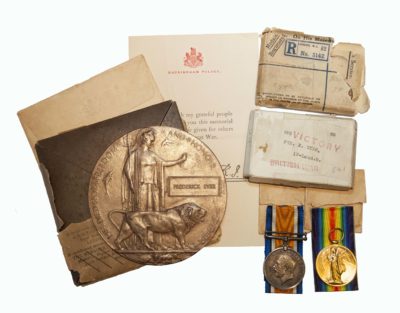 This group, awarded to Fred Syer, demonstrates this perfectly. The medals and his Memorial Plaque, remaining still, 100 years after being received, in their postal envelopes.
Fred was killed in an attack on the village of Flers, a village on the Somme battlefields, on the 29th September 1916, only 14 days before Fred was killed, the first-ever tanks had gone into action in the very same village.
After the War Fred's body was not found and he is commemorated on the Thiepval Memorial to the missing of the Somme Battles, a memorial with over 73,000 names of those who were never found.
The Syer family had lost Fred completely,  no grave to visit – when his medals arrived by post they were opened, lovingly repacked in boxes and envelopes,  and reverently put in a drawer, just a memory of a son lost.
This article is written by Medallist Mark Smith.