January saw an extremely busy month in the coin world, with the New York International coin show, one of the busier shows of the year with plenty of auctions happening in that week. One great achievement was that in our own auction we set a new world record for the highest price ever of a British coin sold at auction. We had on offer a 1703 Vigo five guineas (one of the finest known) which after multiple bids finally hammered at $1,080,000 (£845,000) including premium.
The Vigo mark was used on silver and gold coins of Queen Anne in 1702 and 1703 to commemorate the sacking of the Spanish seaports Cadiz and Vigo, in the Dutch-Anglo campaign against Spain. Having seized a number of Spanish treasure ships in Vigo Bay, a large quantity of Silver and a lesser proportion of gold from the booty were used to strike British coins bearing the word Vigo. All Queen Anne Vigo gold coins are extremely rare but none more so than five guineas, this impressive large gold coin was struck in very low numbers.
Results such as these, re-affirm how strong the coin market continues to be and with the uncertainty of Brexit, we would expect tangible assets such as coins to remain firm.Five guineas of all reigns have seen enormous price increases over the last 15 years especially in conditions of Extremely Fine or better.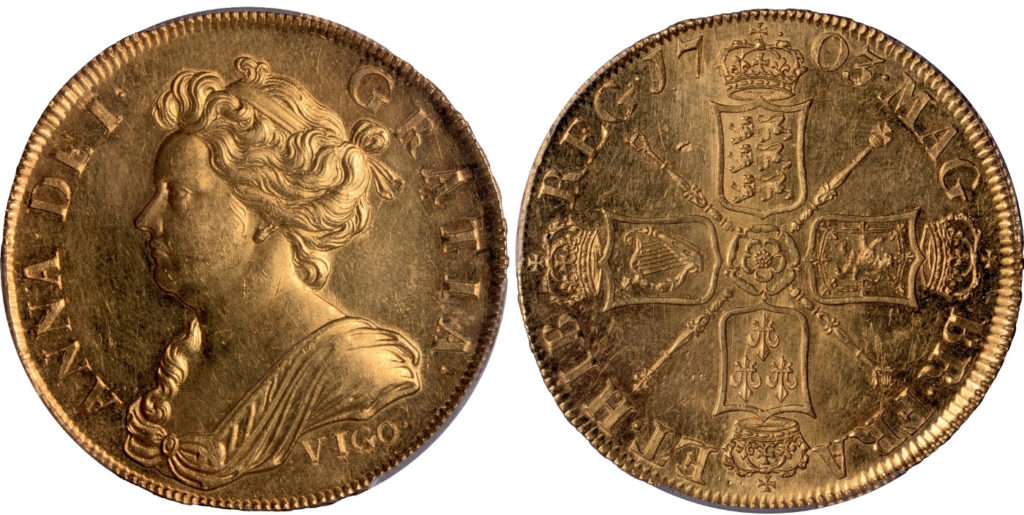 THE TWO GUINEA
Two guinea pieces in similar condition have also seen positive price increases but have yet to hit the dizzy heights of five guineas. This leads me to believe there could be plenty of potential in the two guinea market and they are still relatively undervalued in comparison to their five guinea counterparts.
PERFORMANCE OF THE VIGO 5 GUINEA
SOME ITEMS AVAILABLE FOR SALE
From the items mentioned above, here are some magnificent examples we have for sale, also available from our recent Fixed Price List.
Email me or call if you would like to discuss. neil@baldwin.co.uk +44 (0)20 7930 6879
NEIL PAISLEY, Managing Director